Facts and Finds: A Fast Track to Careers & More...
Mar
04
2013
In this month's Facts & Finds: associate degrees can be as financially rewarding as bachelor's degrees in some fields, the growing role of apprenticeship programs in meeting the needs of today's work force, certificates as a fast track to a rewarding career and more.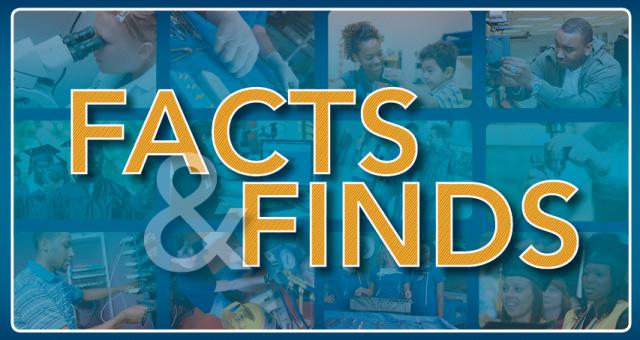 (Community College Spotlight) Apprenticeships are making a comeback. Apprenticeship has spread from construction trades to "skilled occupations such as computer operator, machinist, dental laboratory technician, tool and dye maker, electronic technician" and more, reports Community College Times. South Carolina is home to a major apprenticeship initiative called Apprenticeship Carolina.
(CNN Money) While choosing between an associate or bachelor's degree isn't an "either/or" choice thanks to transfer agreements with four-year schools, some associate degrees can be more rewarding than bachelor's programs. Nearly 30% of Americans with associate's degrees now make more than those with bachelor's degrees, according to Georgetown University's Center on Education and the Workforce.
(GSA Business) At the height of the recession, 32% of manufacturing jobs nationwide went unfilled due to the unskilled labor pool, said Anand Gramopadhye, director of Clemson's Center for Workforce Development. But organizations like the SC Technical College system are working directly with businesses throughout the state to address the shortage.
(Forbes) If you're looking to get into the workforce quickly, Forbes.com recommends starting with a certificate program. Certificate holders can earn anywhere between 15% to 62% percent more than high school graduates and non-certificate holders.
(Community College Times) During the 2010-11 school year, the National Center for Education Statistics estimates that nearly 15,000 public high schools (82 percent) enrolled students in 2 million college courses, for which students earned both high school and college credit. This is an increase from 71 percent in 2002-03 academic year. Dual enrollment can be a great way to earn college credit and to save money on tuition for a four year degree.