Annual Christmas Pottery Show and Sale
Select an events category:
Need to do some early holiday shopping? Why not purchase some creative and handmade crafts from local students.
Interested shoppers can see and purchase the works of art on Thursday, Dec. 6 in room 209C of the James C. Self Conference Center in Greenwood. The sale will be from 10 a.m. to 5 p.m. Pieces for sale include cups, mugs, bowls, baking and serving dishes, porcelain Christmas ornaments, as well as an array of decorative pieces.
For more information about the sale, contact Thomas Koole, professional clay instructor, at (803) 637-5388 or koole.t@ptc.edu.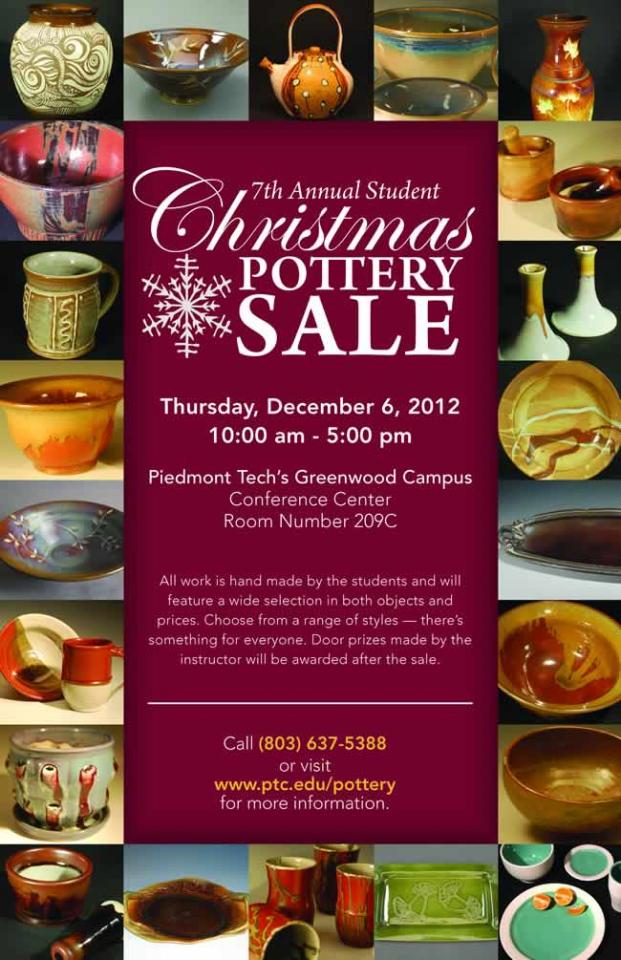 This is the seventh Christmas show the students have held since the Professional Clay program launched in the fall of 2006. The program allows students the opportunity to not only gain the skills needed to produce pottery, but also those skills required to make such production a self-sustaining business. Instruction includes technical knowledge, design skills and marketing and business essentials.
A portion of the sale of each piece goes to support the pottery program through the College Foundation. Door prizes will be given away at the conclusion of the sale. No purchase is necessary to register or win.